BLD student elected to national organization
Release Date: Sep 13, 2021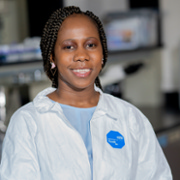 Racheal Nassimbwa, a student in the Michigan State Biomedical Laboratory Diagnostics Program, has been elected to serve as the Developing Professional Director on the Board of Directors of ASCLS, American Society for Clinical Laboratory Science. ASCLS is the national professional organization for certified medical laboratory scientists.
The Developing Professional Director represents the Developing Professional Forum (DPF) to the ASCLS Board of Directors. DPF educates clinical laboratory science students in professionalism, organization, and policies. The DPF chair also serves as a voting member of the ASCLS Board of Directors.
When asked about being elected, Nassimbwa said, "It is an honor, and I hope to provide a platform to facilitate open communication between students and the organization leadership. I hope to encourage and increase clinical laboratory science students' involvement with ASCLS as they prepare for transition into the profession."
Racheal is full of hope and excitement to serve in her new role and grow her career, stating, "I hope to learn about the profession organization, structure, and procedures at the local, state and national level. I look forward to networking with various people at various levels in the profession."
It was important to Nassimbwa to be affiliated with professional development organizations such as ASCLS. She said, "Having a community is important for growth and advancement in a career, and ASCLS is a great way to find guidance and connections."
She credits her activities at MSU for preparing her for this opportunity, "serving on the MSU BLDSA (Biomedical Laboratory Diagnostics Student Association) as a liaison to the College of Natural Science was a great way to learn how to coordinate students and share their concerns with college leadership."
Learn more about ASCLS at ascls.org or email bld@msu.edu.