BLD Speed Networking Make Connections Event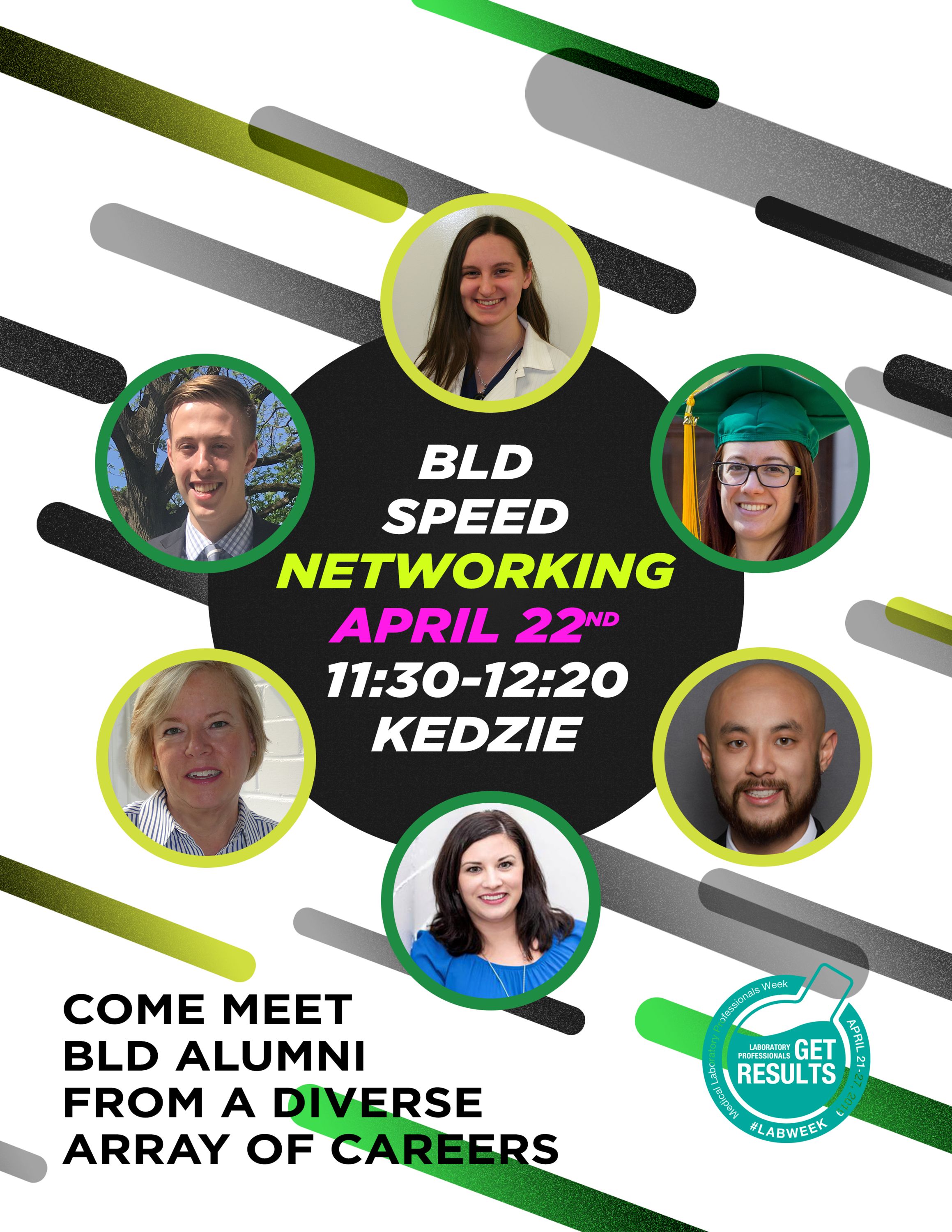 Join us in celebrating lab week on April 22nd from 11:30AM-12:20PM on the third floor of North Kedzie for Speed Networking with BLD alumni. This is a great opportunity to see many of the different career paths that your degree can lead you to. We will provide food and beverages.
You are not required to RSVP but we would appreciate it if you did so at the following link: https://www.signupgenius.com/go/8050C4AACAF2DA2FD0-bldspeed
For more information on the alumni in attendance, check out the biographies below!
Courtney Kent, Research Technician
Hello! My name is Courtney Kent. I graduated from the BLD program, although I took much of the CLS coursework, in summer of 2018. In May of 2018 I obtained a job at Charles River Laboratories- Mattawan Site. I began my work in the in-life Developmental and Reproductive Toxicology (DART) department. On a daily basis I was caring and administering substances to animals. After 6 months I transfered to the post life side of DART, Teratology Lab. In the lab we conduct analysis to determine fertility of animals. We also conduct studies to look for birth defect or cognitive disorders in the offspring. I love my job, as I am passionate about helping people!
Emily Hubbard, Medical Laboratory Scientist
Emily Hubbard is a graduate of the CLS class of 2018. After completing her internship at Munson Medical Center, she passed her ASCP exam in May 2018 and now works as a Medical Laboratory Scientist at Henry Ford West Bloomfield. Though she is a generalist, her passion is blood bank, and she hopes to further her career in the field.
Thomas Chen, MSU Medical Student
Thomas Chen, BLD Class of 2014, is now a third year medical student at Michigan State University. He is based at DMC - Sinai Grace Hospital in Detroit, Michigan. He plans to pursue a career in internal medicine. Before medical school, he spent a year at The Cleveland Clinic in their School of Medical Technology. Starting from his laboratory days, he's had a passion for microbiology, specifically the gut microbiome and how it plays a role in satiety hormone expression.
Heather McLaughlin, PhD, FACMG, Associate Laboratory Director
Dr. McLaughlin graduated from the MSU BLD Diagnostic Molecular Science program in 2007. She earned her PhD in Human Genetics from the University of Michigan in 2012 where her research focused on the role of tRNA synthetases in inherited peripheral neuropathies. After earning her PhD, Dr. McLaughlin completed a Clinical Molecular Genetics fellowship at Harvard Medical School in 2014. She has served as an Assistant Laboratory Director at the Laboratory for Molecular Medicine, an Associate Laboratory Director at GeneDx, and she is currently an Associate Laboratory Director at Invitae. Dr. McLaughlin has taught courses at Harvard Medical School and Boston University and she has authored over 30 peer-reviewed manuscripts and a book chapter. Her clinical interests focus on genetic testing for cardiology, connective tissue disorders, pediatric disorders, and eye disorders.
Lisa McFarlane, Sr. Regional Business Manager
I graduated from MSU in 1982 (OLD!) with a degree in MT - did my internship at McLaren in Flint. Went on to work at both the DMC and St. John in Detroit, for about 10 years, both in Microbiology which is my passion. I attained the SM(ASCP) certification while at St. John. I made the leap into the commercial world when I went to work at bioMerieux, where I spent 9 years first as a technical rep, then an Account Manager. From there I went to Thermo Fisher Scientific and spent 16 years in the Microbiology Division with various roles in sales leadership. Started in November 2018 back at bioMerieux. My current title is Sr. Regional Business Manager for the Great Lakes Region at bioMerieux. In a nutshell, my education at MSU prepared me so well for a career that started in the lab and then transitioned into selling to clinical, pharma and food customers, all in the infectious disease/microbiology space.
Alex Cornell, Medical Laboratory Scientist. I'm from Battle Creek, MI and I attended Michigan State University from 2015 to 2017. I obtained a Bachelor's Degree in Biomedical Laboratory Science from Michigan State and then participated in the match program for MLS and got placed at Detroit Medical Center. I completed a 10 month internship from September 2017 until May 2018. Upon completion of that program, I passed my certification exam through ASCP and began a job working at Bronson Methodist Hospital in the Microbiology Department on second shift.