BLD Make Connections - Build Your Network
Release Date: Oct 5, 2020
Categories: Homepage Spotlight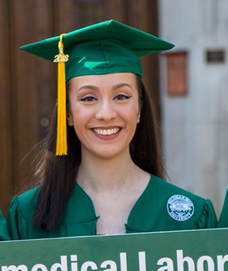 Santana McIntyre - Bio
Santana McIntyre is a Medical Laboratory Scientist and BLD Spartan alum. She currently works in the hematology laboratory at Michigan Medicine in Ann Arbor.
McIntyre was a student at Michigan State University from 2014-2018 and a part of the Biomedical Laboratory Diagnostics Program and the College of Natural Science, studying Clinical Laboratory Science (now known as Medical Laboratory Sciences - MLS). McIntyre was also a part of Lyman Briggs College and the Honors College.
Make Connections' Highlights
"I really love the lab. I love how I am in medical profession. I am able to help patients, but I'm not right at the bed-side, because that is not for everyone. I am this behind the scenes person, but I still making a big impact."
"BLD will prepare you." - Santana McIntyre talking about being prepared for sit for certification.
"I feel very fortunate. I just always knew what I wanted to do and I love what I do I genuinely can sat that I love my job."
"Take advantage of people like Mariane [Wolfe] and Michelle [Russell] and all of the professors. They really are there to help. Take advantage what a great quality program this is. I really notice that the current two students that are rotating through Michigan Medicine, people are like, 'wow, they are really great!' And I am like, 'Yeah, that is because they are Michigan State students'... I genuinely believe it's we come from a good program that prepares us very well."
"Take advantage of the program. What you put into it is what you will get out. So put the work in now and you will reap the fruits of your labor later."
"Whether it is within the cohort, within the program, or another state student or not a state student, have a couple people who are your support people."
Learn more about Santana's experience at MSU BLD.