Molecular Laboratory Diagnostics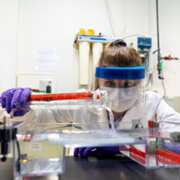 Is this program for you?
The Molecular Laboratory Diagnostics certificate program is designed for working medical laboratory professionals in need of updating their skills and knowledge to meet the demands of modern molecular biology applications.
Individuals working in veterinary, forensic, industrial, and pharmaceutical laboratories will also find the content pertinent to their career goals. Individuals seeking certification in molecular biology from the ASCP Board of Certification will find these courses provide a solid preparation for national credentialing examinations; however, these courses do not fulfill the requirements for eligibility for certifying exams.
Registration for Non-Degree education student to take courses.
---
Start Your Spartan Journey
To speak with an academic advisor or curriculum assistant regarding registration assistance, course information, or general interest, please fill out the form below.
---
Program Courses
This program includes the following courses:
BLD 830 - Concepts in Molecular Biology (2 Credits) - taught fall semester every year. Students will learn the techniques and theories of molecular biology including: nucleic acid synthesis and isolation, enzymatic digestion and modification, electrophoresis, hybridization and amplification, as well as clinical laboratory practice ethics.
BLD 831 - Clinical Application of Molecular Biology (2 Credits) - taught in the spring semester every year. This course covers molecular diagnostic principles, including diagnostic outcomes in both traditional and non-traditional laboratories.
BLD 832 - Molecular Pathology Laboratory (2 Credits) - taught in the summer semester of even years. This is a hybrid course that combines online learning and the lab portion taught on campus for one week during the summer. This hands-on laboratory course will give students the experience of working in a molecular laboratory and train them to produce accurate results.
---
Books
These textbooks are used in both BLD 830 and BLD 831. You may purchase your books through any retailer.
Color Atlas of Genetics, 5th edition
Author: Passarge
Published by: Thieme
ISBN: 9783132414419
Human Molecular Genetics, 5th edition
Author: Strachan and Read
Published by: Garland Science
ISBN: 9780815345893
---
Cost of the Course
Registration fees are paid on a per-credit hour basis and will be billed to your account at the time registration. For the 2022 - 2023 academic year (August - May) the fees are as follows:
Michigan Residents Status: $841.75/credit
Non-Michigan Resident Status: $1,078.75/credit
*Course fees are subject to change with approval of vote by Board of Trustees and some additional fees for international students may be applicable.
---
Need More Information?
Contact our curriculum assistant 517-884-3483 or via email at raffer24@msu.edu.