Clinical Mass Spectrometry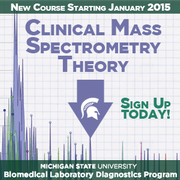 About this program
Medical laboratory scientists with training in mass spectrometry are in demand in the clinical laboratory. This series of courses is designed for anyone in the clinical laboratory field who wants to learn about mass spectrometry and utilize this technology in the clinical laboratory. No background knowledge in mass spectrometry is needed as we will cover the fundamentals and build on them throughout the program. Recommended background for participants is a college course in Biochemistry. Those with some mass spectrometry experience will also benefit from these courses as we will cover mass spectrometry theory in detail and apply this knowledge to clinical based samples. We will also cover instrument maintenance and trouble shooting tips.
The current series of courses are as follows:
BLD 870 - Clinical Mass Spectrometry Theory (2 credits)
Offered during the fall semester of odd years. This course covers mass spectrometry theory. Included are principles of instrumentation, liquid and gas chromatography theory and data analysis as it applies to the clinical laboratory.
BLD 871 - Applied Clinical Mass Spectrometry (2 credits)
Offered during the spring semester of even years. This course will apply clinical mass spectrometry principles to sample preparation, platform selection, data analysis, standards, and quality control.
BLD 872 - Clinical Mass Spectrometry Laboratory (2 credits)
Offered during the summer semester of even years. This one week intensive laboratory course is offered during the summer semester here on the campus of Michigan State University. The laboratory will give you hands-on experience with sample preparation, instrument operation, data interpretation, and instrument maintenance as it relates to the clinical practice.
Books
You may purchase your books through any retailer.
BLD 870 - Mass Spectrometry: Principles and Applications, 3rd Edition
Author: Edmond de Hoffmann, Vincent Stroobant.
Publisher: Wiley-Interscience, October 17, 2007
ISBN: 978-0-470-03310-1 (paperback)
BLD 871 - Mass Spectrometry for the Clinical Laboratory
Editors: Hari Nair, William Clarke
Publisher: Academic Press; 1st Edition, December 1, 2016
ISBN-13: 978-0128008713; eBook ISBN: 9780128009925
BLD 872 - A laboratory manual will be provided.