Angela Wholehan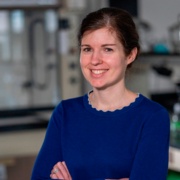 Angela Wholehan, MLS (ASCP)CM, SBBCM
Teaching Specialist
Office: 517-884-3456
E-mail: angelalw@msu.edu
Angela Wholehan graduated from the MSU CLS program in 2007. She interned at St. Joseph Mercy Hospital in Ann Arbor, MI, and was employed at Sparrow Hospital upon graduation and earned MLS certification from the ASCP shortly thereafter. At Sparrow, she worked as generalist, although primarily in hematology and blood bank. Through her work there, she developed a particular passion for transfusion medicine.
In December 2017, she was hired as an Assistant Instructor for the BLD program, primarily assisting in the teaching of the BLD laboratories. During her time as an Assistant Instructor, she earned a Specialist in Blood Banking graduate certificate from Rush University. In 2019, she achieved SBB certification from the ASCP. Also in 2019, she moved into a Teaching Specialist position for the BLD program. She now teaches BLD 213L and BLD 314L and assists in teaching BLD 424L and BLD 836. Throughout her time at MSU, she has developed a strong passion for teaching medical laboratory science to future laboratory, medical, and research professionals. Her favorite part of teaching is seeing students get excited about activities and concepts they will apply to their future careers!
In addition to teaching and pursuing higher education, Angela is actively involved with the Michigan Association of Blood Banks (MABB), serving as a member of the Annual Meeting Planning Committee, chair of the Education Committee, and as a Board Member at Large. Furthermore, she maintains membership with ASCLS and AABB. She also enjoys promoting the BLD program and medical laboratory profession to the general public, such as by presenting at the MSU Science Festival. Angela is happily married to fellow CLS alum Jason, and they have two amazing sons. In her spare time, she loves to raise future service dog puppies for Paws With A Cause (not enough spare time right now!), read, and travel the world.
Address
North Kedzie Hall
354 Farm Lane, Room N322
East Lansing, MI 48824-5672
(517) 353-7800
(517) 432-2006
Map