Michelle Russell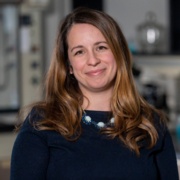 Michelle Russell, MS, MLS(ASCP)CMMBCM
Graduate Program Coordinator & Undergraduate Advisor
Phone: 517-432-2559
Fax: 517-432-2006
E-mail: russmich@msu.edu
Michelle (Hipple) Russell received both graduate and undergraduate degrees from Michigan State University in Clinical Laboratory Science. She graduated with her Bachelor's degree in 2005 as she completed her internship at St. Joseph Mercy Hospital in Ann Arbor where she continued to work in the core lab. Following that experience, she worked as a medical technologist at Gift of Life Michigan. She continued part-time while she pursued her Master's degree and served as a graduate research assistant in Dr. John Gerlach's Histocompatibility Laboratory. Her Master's thesis project topic was the detection of human HLA Class II protein in a vaccine preparation. The protein detection methods utilized were western blotting and mass spectrometry in the context of sensitization in a pediatric renal transplant recipient.
She also became certified as a Histocompatibility Technologist (ABHI). Michelle continued with further graduate studies and then took a position at the University of Michigan Health System (UMHS) in the Clinical Molecular Diagnostics Laboratory. There, she performed molecular assays and served as the UMHS Department of Pathology's Medical Laboratory Science (MLS) Internship Clinical Liaison. Michelle has also facilitated courses for the University of Cincinnati's MLS Distance Learning Program and is an active member of the American Society for Clinical Laboratory Science – Michigan.
Michelle Russell has been a co-instructor of BLD 430L Molecular Diagnostics Lab for two years and BLD 430 Molecular Diagnostics for this past year. She loves using her laboratory experience to engage students in the theory, methods and applications of molecular diagnostics in all areas of human health.
Address
North Kedzie Hall
354 Farm Lane, Room N322
East Lansing, MI 48824-5672
(517) 353-7800
(517) 432-2006
Map