Rachel Morris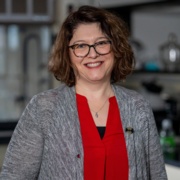 Rachel Morris, Ph.D. MLT(ASCP)CM
Teaching Specialist
Phone: (517) 432-2609
Fax: (517) 432-2006
E-mail: rlmorris@msu.edu
Dr. Morris earned an A.S. of Medical Laboratory Science and a B.A. in Biology from the University of Maine at Augusta. She earned her Ph.D. in Biological Sciences (specialization: Microbiology) from Marquette University in Milwaukee, WI in 2011. Her postdoctoral research was completed both in the department of Microbiology and Molecular Genetics at Michigan State University and in the University of Michigan Medical School (Internal Medicine, Infectious Diseases).
Dr. Morris joined the BLD faculty in January 2014. She teaches pathology, molecular diagnostics, and writing (see course list below), and serves as the graduate program director. Dr. Morris enjoys training the next generation of medical health professionals. She has been passionate about science education throughout her career, mentoring and teaching high school, undergraduate, and graduate students. Since 2018, she has expanded her outreach to the general public as the co-host of the podcast Speaking Science, which seeks to translate the science that affects our daily lives. www.speakingsciencepodcast.com
Her areas of research interest include the microbial ecology of anaerobic wastewater treatment, the physiology and ecology of bacteria in low oxygen environments, diagnostic microbiology, and faculty development.
Publications:
R. L. Morris and T. M. Schmidt. Shallow Breathing: Life at Low O2. (Nature Reviews Microbiology, March 2013)
R.L. Morris, A.E. Schauer-Gimenez, C. Kearney, C.A. Struble, D.H. Zitomer, J.S. Maki. Methyl Coenzyme M Reductase (mcrA) Gene Abundance Correlates with Activity Measurements of Methanogenic H2/CO2 Enriched Anaerobic Biomass (Microbial Biotechnology, January 2014).
R.L. Morris, P.P. Mathai, V.P. Tale, D.H. Zitomer, J.S. Maki. mcrA Gene Copy Quantification and Methane Production Rates in Industrial and Municipal Anaerobic Biomass (Letters in Applied Microbiology, October 2015).
P.P. Mathai, M.S. Nicholes, K. Venkiteshwaran, C. Brown, R.L., Morris, D. H. Zitomer, J. S. Maki. Dynamic shifts within volatile fatty acid–degrading microbial communities indicate process imbalance in anaerobic digesters. (Applied Microbiology and Biotechnology, March 2020).
Courses taught:
BLD 204 Mechanisms of Disease
BLD 456 Medical Laboratory Professionalism
BLD 430L Molecular Diagnostics Laboratory
BLD 460 Advanced Molecular Diagnostics
BLD 805 Communication in the Sciences
BLD 811 Fundamentals of Scientific Research
Address
North Kedzie Hall
354 Farm Lane, Room N322
East Lansing, MI 48824-5672
(517) 353-7800
(517) 432-2006
Map