Yukari Nishizawa-Brennen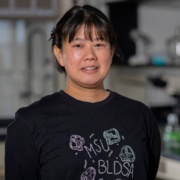 Yukari Nishizawa-Brennen, PhD, MLS(ASCP)CM, MT(Japan)
Assistant Professor Fixed-Term
Phone (517) 432-4470
Fax: (517) 432-2006
E-mail: nishiza1@msu.edu
Dr. Nishizawa-Brennen grew up in Osaka, Japan. She earned her associate degree in Medical Technology from Kyoto College of Health and Hygiene in Kyoto, Japan. She met her husband, Michael, when he came to Japan as a guest speaker at an educational conference. After a long-distance relationship, she married and emigrated to Pocatello Idaho, starting a new family with him. She received her bachelor's degree from Idaho State University in Medical Laboratory Science where she also participated in undergraduate chemistry research. She relocated to Michigan completing her PhD in organic chemistry at Michigan State University.
She joined the BLD faculty in 2018. Dr. Nishizawa-Brennen enjoys teaching clinical chemistry and spending time with her students. BLD students often gather in her office discussing both scientific and/or non-scientific topics. This is one of her favorite activities at BLD. The classes she teaches: BLD313, BLD302 and BLD402. She also assists in some laboratory classes.
In her spare time, Dr. Nishizawa-Brennen enjoys cooking, crafts, playing video games, attending live music performances, traveling, and watching the same movies over and over again.
Crafts she enjoys are crocheting, sewing and knitting.
Her favorite films include Die Hard, RED, Mr. Right, Fargo, The Silence of the Lambs, and The Shining.
Address
North Kedzie Hall
354 Farm Lane, Room N322
East Lansing, MI 48824-5672
(517) 353-7800
(517) 432-2006
Map