Mariane Wolfe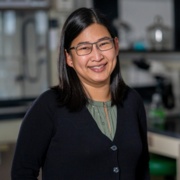 Mariane Setyabudi Wolfe, MS, MLS(ASCP) CM
Assistant MLS Program Coordinator and Academic Advisor
Phone: 517-432-3805
Fax: (517) 432-2006
E-mail: setyabu1@msu.edu
Mariane (Setyabudi) Wolfe received both graduate and undergraduate degrees from Michigan State University in Clinical Laboratory Science. She graduated with her bachelor's degree in 2004 and gained clinical experiences at Sparrow Hospital in Lansing, Michigan. Shortly after her internship, she moved to North Chicago, Illinois to work for Abbott Diagnostics Division performing in-vitro diagnostics testing.
In 2005, she returned to MSU Biomedical Laboratory Diagnostics Program for her Masters in Clinical Laboratory Science. Her master's project was particle-based flow cytometry assay to detect anti-angiotensin II type I and type II receptor antibodies with Dr. John Gerlach. During her graduate work, she was the teaching assistant for BLD 213 and BLD 433 along with some advising for undergraduate students for the Program. After she completed her master's degree, she joined the MSU BLD Program as temporary faculty in 2008.
In 2009, she took a position as an instructor for the Clinical Laboratory Sciences at Ferris State University in Big Rapids, Michigan where she taught clinical chemistry, immunology, phlebotomy and blood bank. She was also the program coordinator for the molecular diagnostics program. She returned to the MSU BLD Program in January 2012 as the graduate program coordinator and academic advisor. She is currently is the Medical Laboratory Science Assistant Program Director.
Mrs. Wolfe currently teaches freshman seminar, BLD 121 Survive and Thrive Freshman Seminar. Being a lifelong learner by learning from every situation is one of the skills that she wants students to learn. With advancement in technology and new discovery, graduates need to be able to adapt and keep their skills current.
Mrs. Wolfe is an active member of the American Society for Clinical Laboratory Science-Michigan.
Address
North Kedzie Hall
354 Farm Lane, Room N322
East Lansing, MI 48824-5672
(517) 353-7800
(517) 432-2006
Map