Kathy Hoag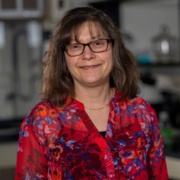 Kathleen A. Hoag, Ph.D., MLS(ASCP)CM
Associate Professor
Phone: 517-353-3276
Fax: 517-432-2006
E-mail: hoagk@msu.edu
Dr. Hoag is a native of Michigan, born and raised in a small town on the western end of the Upper Peninsula, Bessemer. She received her bachelors degree from Michigan Technological University in Medical Technology in 1988. She then moved to Texas, completing her MS degree in Medical Technology in 1991 at Texas Christian University and her PhD in Immunology at the University of Texas Southwestern Medical Center at Dallas in 1996. She performed postdoctoral research in Nutritional Immunology at the University of Wisconsin-Madison, and had an Assistant Professor position at Slippery Rock University of Pennsylvania before joining the BLD program faculty in 2001. Dr. Hoag's passion is teaching, and she currently teaches Clinical Immunology (BLD 434) and other BLD coursework as assigned.
Dr. Hoag received the Teacher-Scholar Award from the College of Natural Science and Michigan State University in 2005, and an Excellence in Teaching Award from the College of Natural Science in 2013.
Dr. Hoag is married and has one son. She enjoys water aerobics, long nature walks, fishing, reading, and watching sports in her free time.
Address
North Kedzie Hall
354 Farm Lane, Room N322
East Lansing, MI 48824-5672
(517) 353-7800
(517) 432-2006
Map