Heather Poyner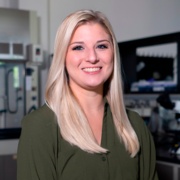 Heather Poyner
Laboratory Coordinator
Phone (517) 884-7878
E-mail: brown755@msu.edu
"As a student, laboratory courses were important for my style of learning. I am passionate about contributing to the education of students in the laboratory setting. It is rewarding to be giving back in a way that was once helpful for me to succeed." - Heather Poyner
Heather joined the BLD program in August of 2020 as the new Laboratory Coordinator. While she is new to BLD, she has years of experience in clinical laboratories.
Working on MSU's campus since 2017, Heather first worked as a research technologist in MSU's Aquatic Animal Health lab where she assisted the PI and MDNR performing necropsies for fish health inspections and utilized ELISA and cell culture assays to help detect bacterial and viral pathogens in fish of the Great Lakes Region. Heather also worked in MSU's Veterinary Diagnostics Laboratory as a Laboratory Technologist, utilizing PCR assays to detect viral pathogens induced by viral infection such as, canine mast cell tumors and canine and feline lymphoma. Prior to MSU, she worked as a research assistant at Auburn University's College of Veterinary Medicine (2015-2016) working in a genetic and molecular laboratory using zebrafish as the model organism.
Heather graduated from Central Michigan University with a B.S. in Biology (2015). She was on the CMU Dance Team (2009) and was President of Colleges Against Cancer for 1 year. She completed her degree by taking a field course in Marine Invertebrates at the Gulf Coast Research Laboratory in Ocean Springs, MS.
When Heather is not in a laboratory, she enjoys the outdoors, teaching dance, and marine biology.
Address
North Kedzie Hall
354 Farm Lane, Room N322
East Lansing, MI 48824-5672
(517) 353-7800
(517) 432-2006
Map