Frances Pouch Downes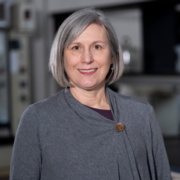 Frances Pouch Downes, MT(ASCP) Dr.P.H.
Professor
Phone: 517-884-4366
Fax: 517-432-2006
E-mail: downesf@msu.edu
Dr. Downes is currently a professor at Michigan State University in East Lansing Michigan with a joint appointment in Biomedical Laboratory Diagnostics and Public Health Programs. Prior to joining MSU, for 12 years she was State Public Health Laboratory Director and Administrator of the Bureau of Laboratories at the Michigan Department of Community Health. She has over 22 years of experience in public health laboratories.
Dr. Downes was President of the Association of Public Health Laboratories from 2008-2009 and served on the Board of Directors from 2004-2012 ​and is the recipient of the APHL Lifetime Achievement Award. She served on federal advisory committees addressing microbiological safety of food and tuberculosis control. She was appointed to the Centers for Disease Control and Prevention's Scientific Advisory Committee. She is also a member of the American Society for Microbiology and other state and local professional organizations.
Her interest in global health stems from her Peace Corps Volunteer work in Zinder, Niger in West Africa. She continues this passion through providing laboratory quality and technical assistance in ​Indonesia. She also worked in Mozambique, Tanzania, China, Burundi, Jamaica, and Botswana. She provided program development input to the World Health Organization on network development and tuberculosis testing. ​She is the co-director of the undergraduate study abroad program in infectious diseases in Malawi.
A graduate of the University of North Carolina Chapel Hill (Dr.P.H. and MPH) and Indiana University (BS), she is also a certified medical laboratory scientist (ASCP) and high complexity laboratory director (ABB).
Relevant, current, active are the values that Dr. Downes incorporates into her teaching. She draws on her laboratory practice experience to inform and motivate students.
Courses taught: Fundamental Microbiology MMG 201, Medical Microbiology MMG 365, Advanced Medical Microbiology MMG 465, Infectious Diseases of Africa BLD 366, Laboratory Professionalism BLD 456, Laboratory Management BLD 445, Clinical Internship Microbiology BLD 477 and 478, Emerging Infectious Diseases BLD 861, Public Health Policy and Administration HM 804, Introduction to Public Health HM 801 and HM 101.
Address
North Kedzie Hall
354 Farm Lane, Room N322
East Lansing, MI 48824-5672
(517) 353-7800
(517) 432-2006
Map