Barret Baxter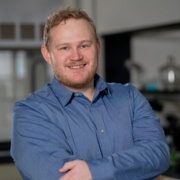 Barret Baxter
Creative/Communications Manager
Phone: (517) 353-9225
Email: baxterba@msu.edu
Barret Baxter is the Creative/Communications Manager for the Biomedical Laboratory Diagnostics Program at MSU, joining the team in December, 2019. Barret is an award-winning video editor and filmmaker with years of experience producing, shooting, editing, and creating motion graphics. He has his A.A.S. in Digital Media Arts & Cinema and is pursuing a B.A. in Media and Information.
Barret enjoys volunteering in the community. He volunteers for the Capital City Film Festival as part of the production team. Barret also volunteers as a Lead Coach for The First Tee of Mid-Michigan.
Barret enjoys golf, board games, and the science of brewing.
Address
North Kedzie Hall
354 Farm Lane, Room N322
East Lansing, MI 48824-5672
(517) 353-7800
(517) 432-2006
Map